---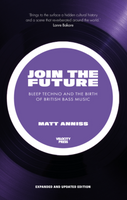 The previously untold story of British dance music's first sub-bass revolution, tracing the origins, development, impact and influence of bleep techno, and the subsequent musical styles it inspired, on UK club culture.
Now expanded to include more interviews, analysis and a brand-new 'afterword' chapter, Join The Future is one of the most revealing and significant books on dance music in years.
Since the dawn of the 1990s, Britain's dancefloors have moved to a string of styles built around skeletal rhythms and heavy sub-bass, including breakbeat hardcore, jungle, drum & bass, dubstep, UK garage, grime and bassline. Yet another previously overlooked sound pre-dated them all: bleep and bass, or bleep techno, the first distinctly British form of electronic dance music.
A mixture of social, cultural, musical and oral history based on five years of research and hundreds of interviews, Join The Future tells the previously hidden history of 'bleep' for the first time. It brings forth the untold stories of bleep's pioneers and those that came in their wake, moving from mid-80s electro all-dayers and reggae soundsystem clashes in the North and Midlands, to the birth of breakbeat hardcore and jungle in London and the South East in the early 90s.
Along the way, you'll find first-hand accounts of key clubs and raves, biographies of forgotten and overlooked production pioneers, stories of bleep outposts in Canada and the United States, and the inside story of the early years of one of electronic music's most iconic labels, Warp Records.